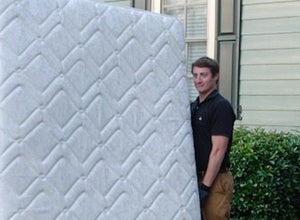 Inexpensive ways of getting rid of your mattress would be listing it on Facebook marketplace (if it is in decent shape) for free or checking with your local municipality, they will often come get them for a reasonable fee.

If all else fails, we can do it. Add this item to your cart and check out as normal, once you purchase the mattress removal, we will follow up with a phone call to schedule the removal on the date & time you specify, Monday - Friday.

Please Note: Though not common, some areas will require an additional fee due to being in a remote area or congested city. We will contact you if so prior to processing.