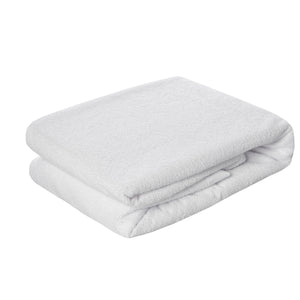 Protect your new mattress without sacrificing comfort. Our breathable terry cloth mattress protector keeps your mattress liquid free & stain free. The ultra stretchy sides easily go on your mattress like a fitted sheet. This cover will not create surface tension like other types of covers and will not affect the feel of your mattress.

Features

100% waterproof mattress protector
Breathable, cotton terry cloth surface prevents overheating
Sleeps quiet -doesn't sound like a giant diaper on your mattress
Provides health benefits for households by creating a clean and hypoallergenic sleeping environment
Defends against stains, body fluids, moisture, dust mites, pet dander and other harmful substances
Easy fit, super-stretch pockets hook on to your mattress corners like a regular fitted bed sheet
Antimicrobial
No PCV, phthalates, vinyl, or flame retardant chemicals
10 Year Warranty
80% Cotton, 20% polyester
Machine washable
Fits mattresses up to 18" deep
Imported
Wash Instructions:
Machine-wash warm with other towels and linens. Wash protector at 140 degree Fahrenheit for optimal bacteria killing. DO NOT USE any solvents such as bleach and bleach alternatives. Tumble dry on medium heat with other towels and linens.